Reading Rainbow Rocks
'Children must read every day at home!'
'Reading Rocks Rainbow Reward' is our incentive to motivate children to read at home. For every night your child reads to an adult or older sibling and has their reading record signed they will be given a ticket. At the end of the week all tickets will be put in a prize draw, 5 tickets will be drawn and these children will be rewarded for their home reading.
In addition, at the end of the week if they have read for 4 nights out of 7 and have their record signed, they will receive a sticker to acknowledge this. Every 4 weeks, the children will try to earn a different colour on the rainbow and move through the colours of their 'Reading Rocks Rainbow'.
Once children have completed their rainbow, they will move on to achieve our silver, gold and platinum rewards, receiving special certificates and prizes such as personalised bookmarks and book tokens!
EYFS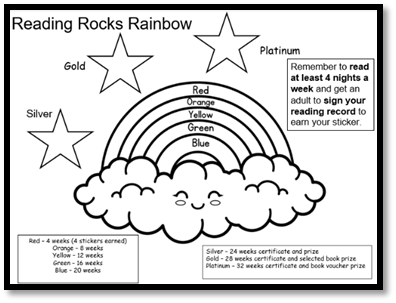 KS1 and KS2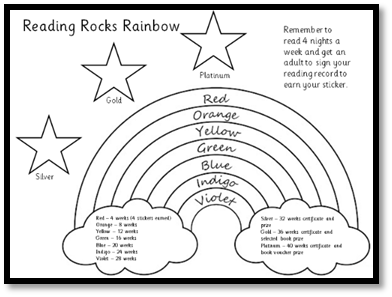 Reading throughout our whole school
EYFS – Reading involves children reading the monster phonics sound sheet/cards, picture book and discussion plus bedtime story reading
KS1 – Reading monster phonic sound sheets and your selected home reading book.
KS2 – Reading monster phonic sound sheets if you have these, your selected home reading book or any additional reading materials.
We very much value the important and significant part that parents and carers play, in helping the children at Kensington Primary in their progress with learning to read.