Beau Support Dog
Please meet Beau, our favourite member of staff.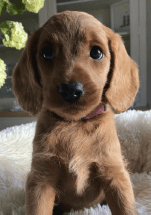 Beau was born on 15th December 2020 and is a F1Labradoodle puppy. We selected a Labradoodle as they are known for their friendly, loving nature, are sociable and are good with children and other dogs.
Beau is owned by Mrs Davies and lives with her and her family. She is training to become our Educational Assistance dog as part of our on-going mental health and well-being provision.